Originally released here at the start of 2015, issue 10 of Sega Pro
just received the remaster treatment and thus, has never looked better.
This issue dates back to the summer of 1992 and therefor
has quite a bit of Game Gear content to keep you busy during that long vacation.
We found a lot of great stuff so it was hard to pick only four preview articles,
so we ended up with eight instead. We have an abundance of Game Gear content up as a preview for this issue,
so lets jump right in and take a look at the reviews for Prince of Persia, Klax, Popils
and last but not least Marble Madness, all of which are for the Sega Game Gear.
Then we have a look at Batman for the Mega Drive, followed by
the Friday the 13th inspired game Splatterhouse II, also for the Sega Mega Drive.
Sega Pro 10 - august 1992 (UK) (REMASTERED)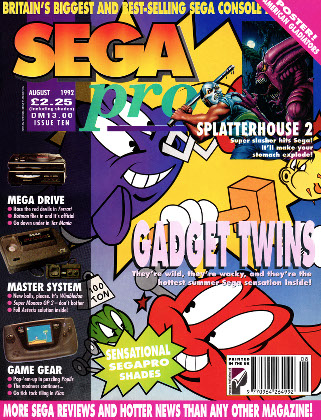 Prince of Persia (Game Gear)
Klax (Game Gear)
Popils (Game Gear)
Marble Madness (Game Gear)
Splatterhouse II (Mega Drive)
Batman (Mega Drive)
The Maximum Resolution version (2560px) can be downloaded
here
.
The Tablet version (1600px) can be downloaded
here
.
The iPod/iPhone version (1136px) can be downloaded
here
.