I was only just able to finish up OSSM issue 22 this evening, but that one still needs a final pass of checking if I missed anything, not to mention all the online articles and graphics put together.
So I wasn't able to finish it up in time for the weekend.
So I went with the remastered edition that I had ready for Sega Pro issue 9 instead.
The good news is that you'll have something really nice and brand new to look forward to for next week.

This time we look back again to Sega Pro with the newly remastered edition of issue 9 from July 1992.
We have a ton of previews for this issue, so let's get started.
We begin with a special titled: Guide to Shoot 'Em Ups.
Then we take a look at The Winter CES of 1992.
We move on to reviews for Exile as well as Bart VS The Space Mutants, both of which are for the Mega Drive.
And then we look at two Game Gear reviews: Crystal Warriors and OutRun Europa
before finishing off this update with the Master System review for Prince of Persia.
Sega Pro 9 - july 1992 (UK) (REMASTERED)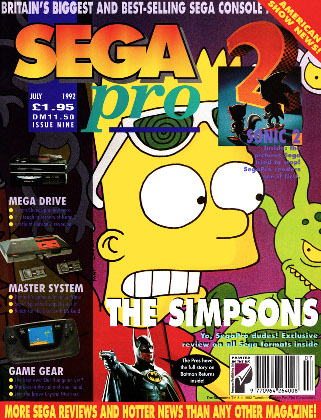 Guide to Shoot 'em ups
The winter CES of 1992
Exile (Mega Drive)
Bart vs the Space Mutants (Mega Drive)
Crystal Warriors (Game Gear)
Outrun Europa(Game Gear)
Prince of Persa (Master System)
The Maximum Resolution version (2560px) can be downloaded
here
.
The Tablet version (1600px) can be downloaded
here
.
The iPod/iPhone version (1136px) can be downloaded
here
.